Edited 2/14/08: The drawing is now closed - wow 102 comments. I'll be back later to announce the winner. Thank you all for participating.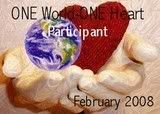 I'm jumping on the bandwagon for a worldwide blog event! Check out all the amazing participants at
One World - One Heart
Two rules to participate in this giveaway,:
1) You must have an active blog
2) You must be participating in the giveaway on your blog
Leave me a comment, let me know where you're from and good luck!
What's the prize? A quart sized gift can filled with goodies.
What's in the can? That's a surprise. I'll post a picture once the winner has received the prize.
Winner will be selected thru a random drawing on February 14th.