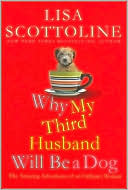 I just finished reading
Why My Third Husbard Will Be A Dog
by Lisa Scottoline. I swear she could be my long lost sister - or cousin - or something. She wrote about things I've thought about. The book had me laughing and, at a couple of points, crying. The chapters are short, but say a lot.
Even if you don't read the whole book, everyone should read the chapters "Thank You" and "Meals on Wheels"....every woman should read "Newsflash" - ok, so maybe men should read that one too, they might get a hint.
If you've read the book, what did you think?
If you haven't, what are you waiting for?